Tax Preparation Services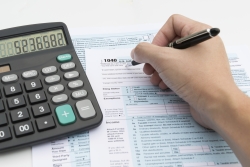 Preparing your own tax return is not as easy as it sounds. The U.S. tax code is so complicated that even filing a relatively simple return can produce questions the average person can't answer. You can easily overlook credits and deductions that you're entitled to, costing you money. While a tax software system can help, it will never replace the insight of a real tax professional.
At R. Lee Pennington, CPA, LLC we deliver accurate, efficient preparation of all types of tax returns including corporate tax filings, multi-state taxes and individual income tax returns. Call R. Lee Pennington, CPA, LLC now at 404-566-7720 to learn more about our Atlanta, GA tax preparation services or request a free consultation through our website.
Our income tax preparation services include:
Business Tax Preparation
We prepare business tax returns for sole proprietors, partnerships, limited liability companies and corporations. Whether your business operates in Georgia only or has locations in multiple states, we can prepare and file your State and Federal taxes.
Trust, Gift and Estate Tax Returns
Not all tax preparers possess the skills and training needed to prepare trust, gift and estate tax returns, but we're fully qualified to process both Federal and State. We meticulously prepare these types of returns and file them in a timely manner to avoid penalties.
---
Lee Pennington has earned the special designation of being a Certified Tax Coach (CTC). This means he is a highly-trained tax planner with the ability to identify tax credits, deductions, and loopholes that the average CPA, accountant, or Enrolled agent does not know how to find. Visit our tax Certified Tax Coaching website to learn more.